Skip to main content
ProMyr™ Silage is an acid based silage additive developed for ensiling of grass, clover, whole crop maize and for crimping. ProMyr™ Silage is effective against unwanted micro-organisms, it minimizes dry matter losses during the ensilage process and preserves high nutritional value. It has no ADR restrictions and is classified as non-corrosive. ProMyr™ Silage also prevents heating during feeding.
How does ProMyr™ Silage work?
Sodium formats has a similar function to formic Acid and is a well-known inhibitor of unwanted microorganisms.
Formic Acid rapidly reduces the pH and allows the natural fermentation process to begin. The faster this point is reached the more DM is preserved.
Propionic Acid helps prevent secondary fermentation once the clamp face is open.
The benefit of ProMyr™ Silage is excellent preservation of dry matter and easily digested nutrients in the silage. A fast decrease in pH results in a high protein availability for the animals. This by denaturation of the plant enzymes which otherwise would degrade the protein to ammonia.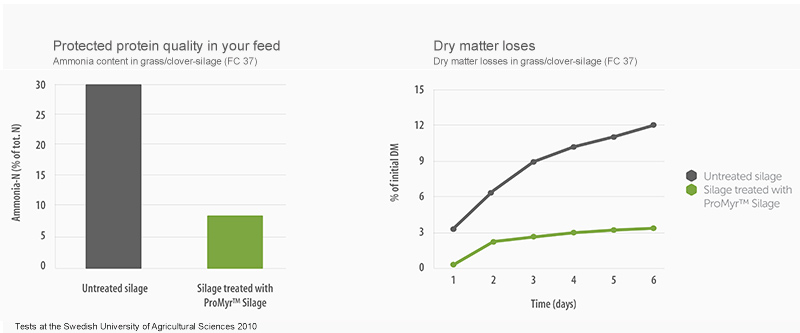 Aerobic stability after clamp is opened
The length of time that silage remains cool and does not spoil after it is exposed to air. Aerobic spoilage leads to an increase in pH and high losses of nutrient and dry matter (DM) in silage.
Storage stability (days)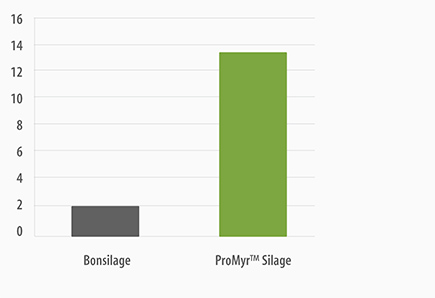 Swedish University of Agricultural Sciences, 2014-15 at 24% DM

Unwanted microorganisms
A high yeast count reduces feed intake, milk production, and milk fat.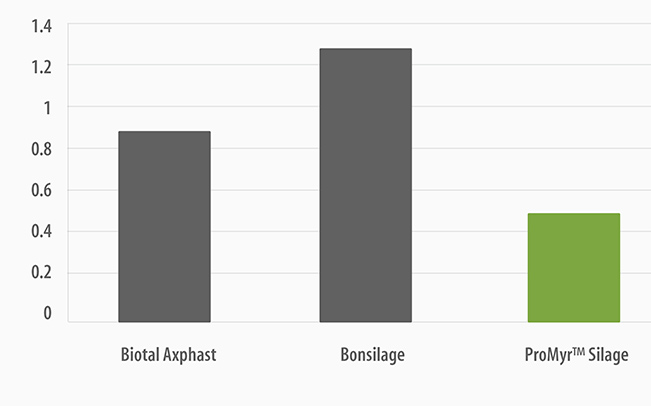 Download ProMyrTM Silage Brochure
Disclaimer : In order for the additive to work, you must always follow the recommended dosage rates and ensure the dosing equipment is calibrated correctly prior to use. The use of additives cannot be expected to overcome adverse weather conditions, poor feeding-out procedures, incorrect dosing rates, poor compaction, poor or inadequate sealing and soil or slurry contamination and is therefore not warranted against these poor practices and conditions. If unsure of applications rates or methods, please seek advice.
Packaging options
Drum

IBC