Paint is a ubiquitous part of our lives, adorning everything from doors and walls to architecture and automobiles. It enables artistic expression, creates the perfect finish to a product and provides an almost endless list of possibilities when it comes to colour.
Its significance spans across cultures and eras, from the cave paintings of our ancient ancestors to the modern buildings and artworks that captivate us today. In this blog, we look at the hugely diverse world of paint, tracing its origins, understanding its chemical composition, exploring various finishes, and highlighting advancements in modern paint technology.
The Origins and Significance of Paint
The history of paint dates back thousands of years when early humans utilised naturally occurring pigments like charcoal. clay and minerals to adorn cave walls with primitive art. These early forms of paint offered both aesthetic and symbolic value and there are reported finds of primitive paint making which date back to more than 100,000 years ago!
As civilisations developed, paint found its place in architecture and decoration. From ancient Egyptian tombs to Renaissance masterpieces, paint has been a key tool throughout the centuries to enhance our surroundings, but it isn't just about aesthetics anymore; it also serves as a protective barrier. Whether it's shielding a ship from the corrosive effects of seawater, protecting outdoor metals from rust, or preserving materials used in construction, paint plays a crucial role in extending the lifespan of a huge variety of end products.
Essential Components of Paint
At its core, paint consists of four key components:
Pigments: These provide colour and opacity.
Binders: Binders hold pigments together and adhere them to surfaces.
Solvents: Solvents keep the paint in a workable consistency, facilitating application.
Additives: Additives enhance paint properties, like durability and drying time.
Working Together: These components all work in harmony. Pigments give colour, binders provide adhesion, solvents maintain fluidity, and additives offer special characteristics.
Paint Chemistry: The Basics
Pigments
Pigments are responsible for providing the desired hue and opacity to paint. They are finely ground, insoluble particles that are dispersed throughout the paint. Pigments can be organic or inorganic and are chosen based on the specific colour and performance requirements of the paint being produced.
Inorganic Pigments: These are often minerals or metallic compounds. For example, titanium dioxide is a widely used white pigment known for its excellent opacity and brightness. Iron oxide pigments produce various shades of red, brown, and yellow, while chromium oxide green creates green colours.
Organic Pigments: These are synthetic compounds with complex molecular structures. Organic pigments offer a broad spectrum of vibrant colours. For instance, phthalocyanine pigments produce brilliant blues and greens, while azo pigments create reds, oranges, and yellows.
Natural Pigments: Some paints incorporate pigments derived from natural sources, like minerals, plants, or animals. Examples include ochre, a natural earth pigment, and carmine, a red pigment obtained from crushed cochineal insects.
The chemical composition of pigments dictates their colour and lightfastness (resistance to fading over time). Pigments are typically mixed with binders to create a uniform paste, which is then dispersed evenly throughout the paint.
Binders
Binders, also known as resins or polymers, serve as the glue that holds pigments together and adheres them to the surface. Binders are responsible for the film-forming properties of paint, determining characteristics such as adhesion, durability, and flexibility.
Common types of binders include:
Acrylic Binders: These binders are commonly found in both water-based and solvent-based coatings, enamels, and emulsions. They form a durable and flexible film that resists cracking and peeling. Acrylic binders can also be used in artist's acrylic paints. They offer excellent colour and gloss retention whilst also preventing colour fading from weather extremes.
Alkyd Binders: These oil-based binders are frequently used in oil-based paints, gloss, and enamels. They provide a smooth, hard finish and are known for their durability. Used in both architectural applications as well as automotive and decorative, they offer great adhesion, corrosion resistance and gloss retention.
Polyurethane Binders: Polyurethane binders are used in high-performance coatings, such as automotive paints and industrial finishes. They offer exceptional resistance to abrasion, chemicals, and UV deterioration.
Epoxy Binders: Epoxy resins are highly adhesive and resistant to moisture, making them suitable for applications like industrial floor coatings and marine paints such as offshore oil, gas and turbine applications.
Overall the choice of binder is hugely important as it affects the various paint properties, such as drying time, gloss, and compatibility with other materials. Additionally, binders can influence the environmental impact of the paint, with water-based binders being more environmentally friendly due to their lower VOC (volatile organic compound) content.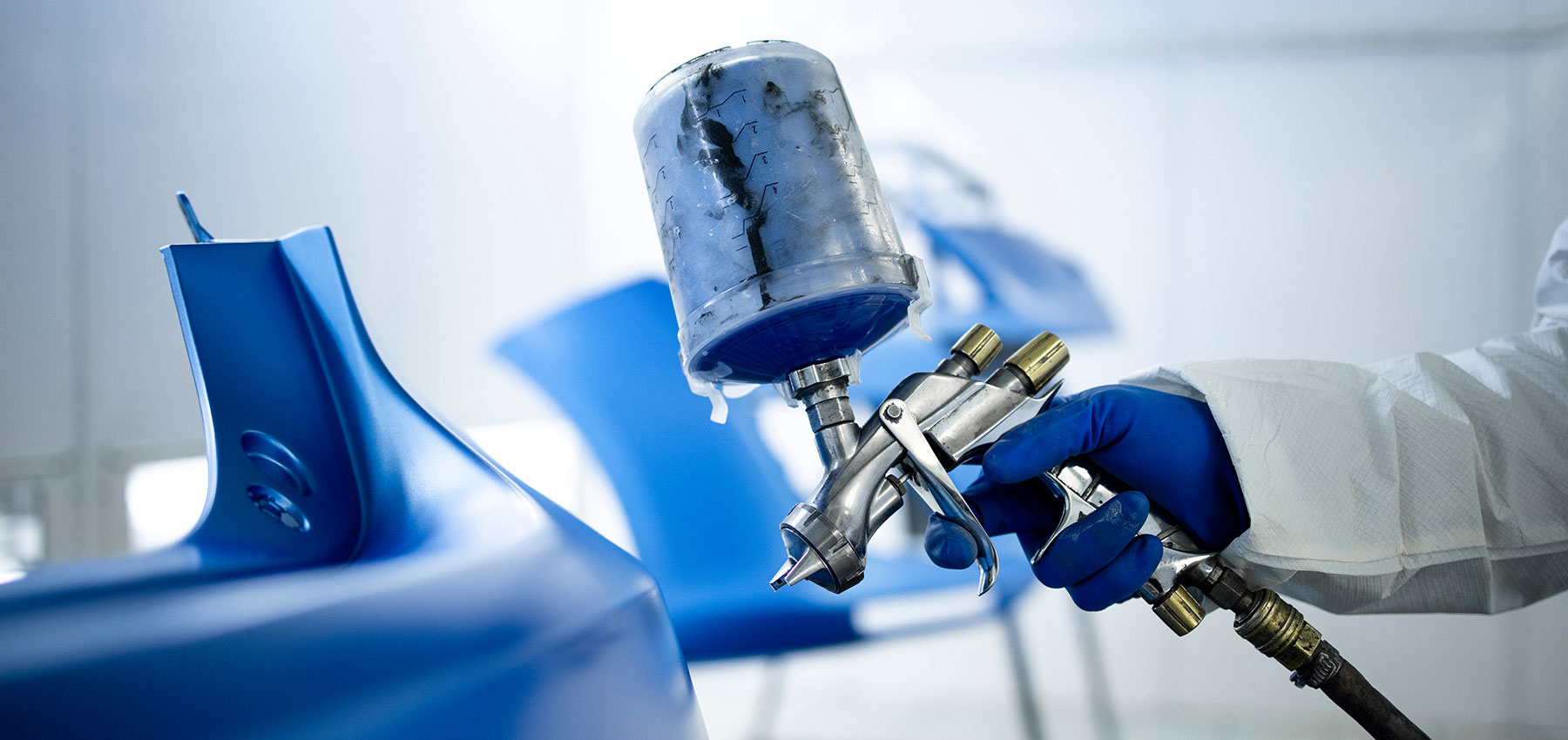 Solvents
Solvents are essential components of paint that control its viscosity, allowing for proper application. They dissolve or disperse the binder and pigments to form a homogeneous mixture. As the paint is applied, solvents evaporate, leaving behind a solid, painted surface.
Common solvents include:
Water:  Water is the primary solvent in water-based paints, such as acrylic paints. It is environmentally favourable and emits fewer VOCs compared to organic solvents.
Mineral Spirits: Mineral spirits are commonly used in oil-based paints and provide a slower drying time, allowing for smoother application and blending. They are classified as organic solvents.
Turpentine: Turpentine is an organic solvent used primarily in oil-based paints. It has a strong odour and can contribute to VOC emissions.
Methyl Ethyl Ketone (MEK): MEK is a fast-evaporating solvent used in specialty coatings, particularly those requiring rapid drying times.
The choice of solvent impacts the paint's workability, drying time, and environmental considerations. Water-based paints are preferred for their lower environmental impact, while solvent-based paints may have higher VOC emissions and require proper ventilation during application.
Additives
Additives are a diverse group of chemicals added to paint formulations to enhance specific properties or address particular challenges. They play a crucial role in fine-tuning the paint's performance.
Common additives and their functions include:
Thickeners: Thickeners adjust the paint's viscosity, making it easier to apply evenly. They are especially important in paint formulations designed for specific application methods, like roller or spray.
Antifoam: These antifoam additives prevent the formation of bubbles or foam during paint production, application, and drying.
Antioxidants: Antioxidants help protect the paint from oxidation and degradation, increasing its shelf life and resistance to colour discolouration due to aging.
Anti-settling Agents: These additives prevent pigments from settling at the bottom of the paint can over time, ensuring consistent colour and performance.
Mildewcides and Biocides: These additives inhibit the growth of mould, mildew, and other microorganisms on painted surfaces, particularly important in humid environments.
Rheology Modifiers: These additives influence the flow and levelling of the paint, improving its application characteristics.
The choice of additives depends on the specific requirements of the paint formulation and the desired end-use properties.
The Spectrum of Paint Finishes


Paints come in various formulations, including water-based, oil-based, and specialty types like enamel and acrylic, each with distinct chemical compositions.
Gloss Paints: High gloss paints are known for their reflective surfaces. This effect is achieved through specific binders that create a smooth, reflective layer. Gloss paints are commonly used in areas requiring easy cleaning, like kitchens and bathrooms.
Matte Paints: Matte finishes have a non-reflective, flat appearance. They are prized for their ability to hide imperfections and provide a velvety look. Matte paints are often used in bedrooms and living rooms.
Satin and Eggshell Finishes: Sitting between gloss and matte, satin and eggshell finishes offer a subtle sheen. They strike a balance between aesthetics and practicality, making them suitable for many applications.
Other Specialty Finishes: There's a wide array of specialty finishes, including metallic paints for a shimmering effect, textured finishes for added depth, and chalkboard/whiteboard paints that turn walls into interactive surfaces.
Advancements in Colour Technology: Nanotechnology has enabled the development of colorants with enhanced properties, offering greater vibrancy, durability, and environmental friendliness.
Advancements in Paint Technology
Innovations in Formulations: Low-VOC (volatile organic compound) and eco-friendly paints, along with solar paint (yes, you read that right) have gained popularity as consumers seek more sustainable options. These formulations reduce harmful emissions and help towards cleaner energy.
Smart Paints and Coatings: Emerging technologies have led to the creation of smart paints with self-cleaning properties, thermochromic coatings that change colour with temperature, and photochromic coatings that react to light.
Antimicrobial Coatings: Paints, particularly those used in public spaces, are also being manufactured to offer protection against bacteria and viruses. Adding silver nanoparticles to paint can kill microbes on contact to keep surfaces sterile without the need for disinfecting or regular cleaning. These coatings are ideal for educational facilities, healthcare settings, food prep areas and other surfaces that can be a potential transmitter of germs.
In conclusion, paint is much more than a simple coating; it's a complex blend of chemistry and artistry that has shaped our world for millennia. From its humble origins to cutting-edge innovations, paint continues to evolve, offering new possibilities and environmentally friendly solutions.
To find out more about the specific chemicals we supply to the inks, paints and coatings markets please head over to our dedicated industry page