Celebrating farming, food, crafts and rural life from farmers and businesses throughout the UK, the show is the flagship event of Scottish charity – the Royal Highland and Agricultural Society of Scotland and is the pinnacle of the agricultural calendar.
Held on the outskirts of Edinburgh, the four-day event across 280 acres of land brought together over 1,000 exhibitors, 2,150 livestock competitors, over 6,500 animals and delivered an estimated UK economic impact of over £65 million.
Whether visiting for the first time, or attending as a business to source new suppliers, there was something for everyone from shopping and entertainment through to the latest in agriculture, farming and feed technology.
Robin George, our agricultural manager was on hand throughout the event ready to discuss our range of Perstorp feed additives.
Working alongside Superior Machines , their exhibition space, situated in the thick of the agricultural section, saw a huge amount of interest from farmers, contractors and passes by, drawn in by the fleet of bruisers and crimpers on show.
Superior Machines, based in Yorkshire and who have representation in France, is a world class manufacturer of British made bruising and crimping mills, as well as continuous flow rolling mill/mixers. Their hand-crafted and precision engineered machines are built in Yorkshire and suit both small producers through to large dairy and beef farmers.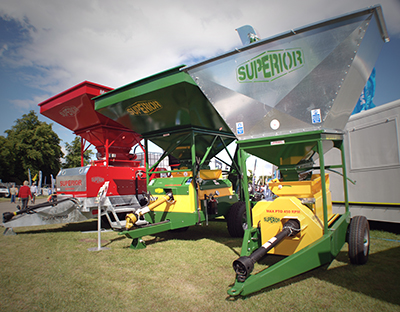 The Perstorp range of performance agriculture and feed products – ProMyr Crimp and ProSid MI 700 go hand in hand with the running of the machines and are the only additives recommended for use in conjunction with Superior Machines equipment. The non-corrosive formulation of these products will not corrode or damage the machinery, ensuring your investment remains clean and well maintained for years to come.
Throughout the course of the four days, thousands stopped by the stand and both Superior Machines and Monarch Chemicals were able to secure a high volume of orders and meetings for the coming months.
The show was a fantastic four days, topped off nicely by the England win against Panama on the Sunday. We might have only just finished unpacking from this year, but we're already excited for 2019 with plans for a bigger and better exhibition space for 2019.