Alongside Superior Machines' range of bruising, crimping and mill-mixing equipment, visitors can discuss their feed additives requirements and learn more about Perstorp ProSid MI700 and ProMyr Crimp for year-round grain protection.
With over 590,000 square feet of agricultural machinery, equipment and services, Lamma 19 is the UK's premier agricultural event. With a new location at the NEC in Birmingham, the show is billed as its largest ever with over 900 exhibitors and over 40,000 visitors from across the UK and abroad.
Robin, our agricultural specialist will be working alongside Superior Machines, discussing the Perstorp range of performance additives – ProSid MI700 and ProMyr Crimp. ProSid MI 700 is a unique, long-lasting formulation, developed to inhibit the growth of moulds and yeasts whilst being non-corrosive and capable of preserving the nutritional value of feed. ProMyr Crimp is a concentrated blend of propionic acid and sodium formate which works to reduce the pH of crimped feed to speed up the fermentation process whilst the propionic content improves aerobic stability and reduces the risks of a secondary fermentation.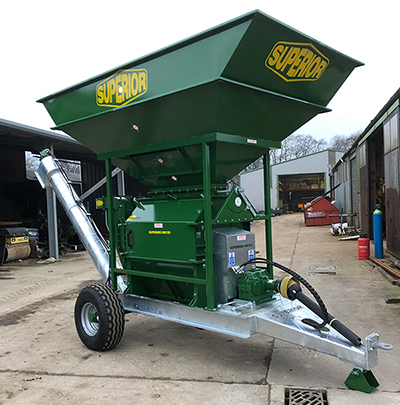 Superior Machines , who only advise using Perstorp additives in conjunction with their machinery, will be exhibiting their range of bruisers, crimpers and mill-mixers. From small producers through to large dairy and beef farmers to the contractor market, Superior Machines make their machines in Yorkshire, England and are a well established and trusted name in the machinery market.
They will also be using the event as a platform to launch their brand new Mobile PTO Hammer Mill so make sure you do not miss the chance to see this brand new piece of machinery. 
The first indoor event takes place on Tuesday 8th and Wednesday 9th January 2019 at the Birmingham NEC and offers, as usual, free entry and free parking. Find us in Hall 7 Stand 7.800.
Registration is now open, and it is advised to pre-register in order to beat the queues and avoid any delays getting into the event. For tickets and more information, you can visit the official site here .