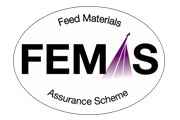 Based on HACCP principles, the FEMAS (Feed Materials Assurance Scheme) aims to protect human and animal health by ensuring safe practices throughout the feed chain for food producing animals. 
The certification verifies that the industry meets all obligations under the appropriate feed safety legislation and codes of practice.
Monarch Chemicals are proud to be part of FEMAS allowing us to offer our customers feed grade products that meet the strict guidelines of this scheme. 
FEMAS products from Monarch Chemicals include: