Skip to main content
ProMyr™ Silage Plus is salt based silage additive developed for ensiling of grass, clover, wholecrop and maize. The product is designed for bales but is also suitable for ensilage in bunker silos. ProMyr™ Silage Plus is a gas-forming additive, which means that the active substance is spread evenly in the silage after application. ProMyr™ Silage Plus is classified as non corrosive.
How ProMyr™ Silage Plus works
The product is a mixture of the two salts sodium propionate and sodium nitrite. The naturally occurring lactic acid in the silage converts the sodium propionate into propionic acid and releases nitrous gases from the sodium nitrite.
These nitrous gases are very effective in killing Clostridium bacteria. The propionic acid is a defence against moulds and yeast especially once opened.
ProMyr™ Silage Plus is the best product for bale ensiling, especially as the product is non-corrosive. The product is equally suitable for other types of ensilage system.
ProMyr™ Silage Plus is a mixture sodium propionate and sodium nitrite.
Classified as non-corrosive.
Protects against unwanted bacteria, moulds and yeasts. Idea for applications where soil contamination is an issue.
Preserves nutritional value of grass, clover and lucerne up to 60% dry matter.
Dosage 3 litre/tonne.
No mixing or dilution required.
Dry matter losses
How much feed do you lose during the ensilage process? The difference between control and ProMyr™ Silage Plus is profit.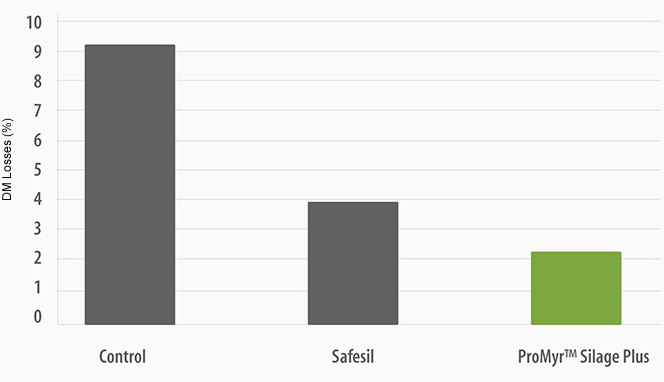 Protected protein quality in your feed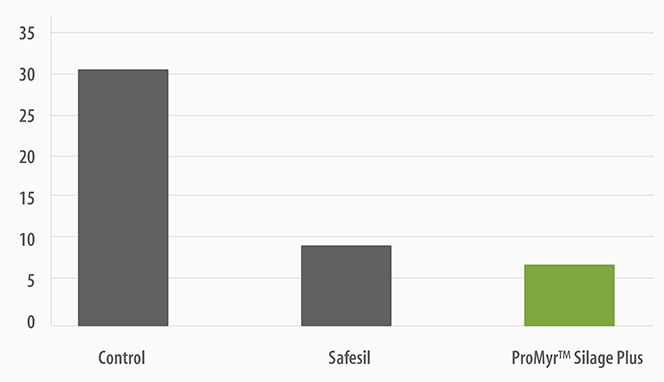 Reference; Swedish University of Agricultural Sciences, 2010
Control of unwanted microorganisms
A high yeast count reduces feed intake, milk production, and milk fat.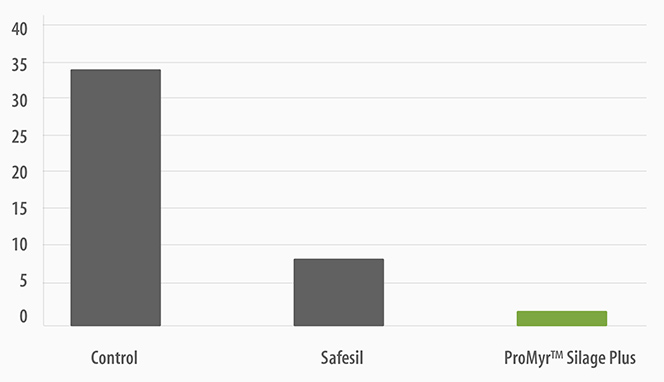 Reference; Swedish University of Agricultural Sciences, 2010
Note:
ProMyr™ Silage Plus is not to be fed earlier then six weeks after harvest.
Only to be used when dry matter content is below 60%.

Download ProMyrTM Silage Plus Brochure
Disclaimer : In order for the additive to work, you must always follow the recommended dosage rates and ensure the dosing equipment is calibrated correctly prior to use. The use of additives cannot be expected to overcome adverse weather conditions, poor feeding-out procedures, incorrect dosing rates, poor compaction, poor or inadequate sealing and soil or slurry contamination and is therefore not warranted against these poor practices and conditions. If unsure of applications rates or methods, please seek advice.
Packaging options
Drum

IBC