Skip to main content
The new generation of preservative for the feed industry
Feed is an important part of the workings of farms worldwide. The better it matches the animal's nutritional requirements; the less losses occur.
In order to achieve optimum feed value, additives are vital as they provide a positive impact on the overall feed quality, which leads to improved animal performance. 
However, for optimal results, it is always in the details. This includes carefully selecting the right additives, introducing them in the right doses, at the right time, and storing feed in the right conditions. This is where our latest additive, ProSidTM Pellet Pro comes in.
ProSidTM Pellet Pro has been designed specifically for use in feed mills and offers a whole host of benefits including:
Promotes the equal distribution of water in feed
Creates equal pellets and increases feed quality
Inhibits the growth of mould 
Reduces the risk of bacterial contamination
Actively reduces moisture losses
Maintains nutritional value and extends grain shelf-life
Increases manufacturing capacity
Reduces operating costs
A balanced moisture content for optimal feed quality
Pellets that are too dry fall apart and pellets that contain too much moisture tend to take an odd shape, both of which means a loss of production capacity for feed mills. ProSidTM Pellet Pro is a unique product, designed for the perfect homogenous dispersion of feed components which provides excellent moisture balance combined with a powerful mould inhibitor to prevent mould growth.
Standardise the moisture content of your pellets
Moisture loss can be a significant contributing factor to poor pellet quality during the production process of compound feed, which has an impact both financially and on the volume of saleable feed. ProSidTM Pellet Pro increases the water-binding capacity of feed material, enabling feed mills to optimise the moisture content of the finished product with zero impact on the shelf life of the product.
For example, during the production process moisture loss can increase to more than 3%, which leads to a poor pellet quality. This has a huge impact financially, whereas, by using Pellet Pro, a feed mill that produces 100,00mt p/y for example, will generate 3,000mt extra of feed to sell where losses caused by evaporation are supplemented by Pellet Pro.  
Production process with ProSid™ Pellet Pro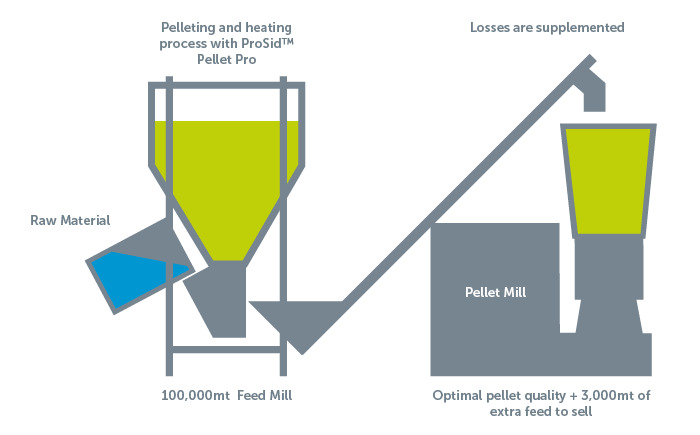 Stay mould free
Using ProSid Pellet Pro also significantly contributes to overall feed hygiene by inhibiting the growth of moulds and bacteria. This has a number of benefits including reducing the risk of grain deterioration and preventing the production of mycotoxins.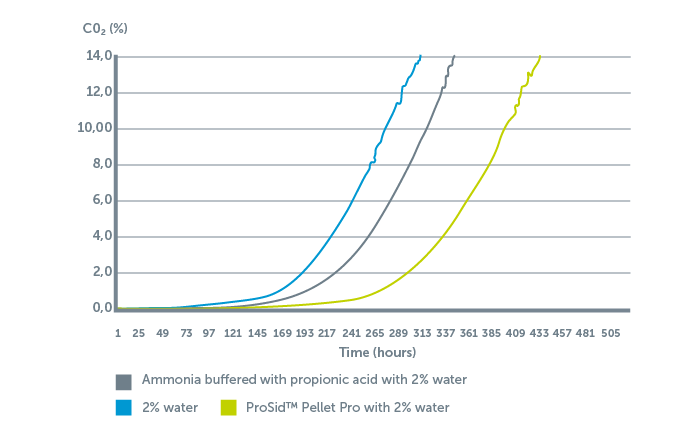 Mould growth over time under optimised test conditions. The graph shows mould growth measured by CO2 production over time. Addition of ProSidTM Pellet Pro greatly prolongs the time before mould formation starts compared to untreated and ammonia buffered organic acid based mould inhibitor.
For more information, or to request our latest prices, please use the contact forms at the top of this page and our Agricultural Specialist will respond to you shortly.
Helpful links:
View the Perstorp Pellet Pro Brochure 
View our FEMAS certificate
Disclaimer: In order for the additive to work, you must always follow the recommended dosage rates and ensure the dosing equipment is calibrated correctly prior to use. The use of additives cannot be expected to overcome adverse weather conditions, poor feeding-out procedures, incorrect dosing rates, poor compaction, poor or inadequate sealing and soil or slurry contamination and is therefore not warranted against these poor practices and conditions. If unsure of applications rates or methods, please seek advice.