Skip to main content
PowerGrain
Happy Rumen, Happy Cow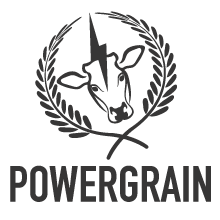 PowerGrain is a unique, concentrated blend of beneficial enzymes for treating grain used to feed dairy and beef cattle.
Key Benefits of PowerGrain 
Treats grain
Increases protein
Reduces acidosis
Rumen friendly 
Lowers costs
Why choose PowerGrain?  
PowerGrain will increase the pH to 8.5-9.5, acting as its own rumen buffer, significantly reducing the risk of acidosis. 
PowerGrain allows you to feed higher levels of starch in ration safely, improving feed efficiency.
PowerGrain will increase the Rumen Degradable Protein content of your grain reducing the need for additional, expensive and bought in feed. 
PowerGrain breaks down the grains membrane allowing easy access to nutrients in the rumen. 
Happy Rumen, Happy Cow  
Untreated grain is high in starch (carbohydrates), lower in protein and generally has a pH of between 5.5-6.5. High carbohydrate rations can reduce the rumen pH causing acidosis. Rumen microbes cannot process the available carbohydrates from the grain without Rumen Degradable Protein (RDP) and Non Protein Nitrogen (NPN), which is their food source. Meaning Rumen Degradable Carbohydrates, RDP and NPN efficiency is directly linked. 
PowerGrain treated grain is high in starch, higher in protein and has a pH of between 8.5-9.5. The increase in protein is Rumen Digestable, meaning the protein / carbohydrate balance is much more rumen friendly. This increases feed efficiency and with its high pH value actually acts as its own rumen buffer. With the risk of acidosis greatly reduced, larger quantities of grain can be fed safely. 

All the benefits of using PowerGrain equate to substantial on farm savings. Using PowerGrain means there is less down time when harvesting and only one treatment of grain needed and the increase in protein means additional bought in protein is no longer needed to supplement the ration.
Wheat and Barley analysis before and after treatment with PowerGrain
Samples taken this year in Holland. 


PowerGrain allows farmers to increase quality and quantity of feed fed to cattle.
Packaging  
PowerGrain is available in 25kg bags. 
The soya used in PowerGrain is responsibly sourced from Europe and GM Free.
When ordering make sure to ask about a free wheat and barley analysis.
Disclaimer : In order for the additive to work, you must always follow the recommended dosage rates and ensure the dosing equipment is calibrated correctly prior to use. The use of additives cannot be expected to overcome adverse weather conditions, poor feeding-out procedures, incorrect dosing rates, poor or inadequate sealing and soil or slurry contamination and is therefore not warranted against these poor practices and conditions. If unsure of applications rates or methods, please seek advice.
Packaging options
Bag