Skip to main content
Helping you to make the most of first cut silage 
Although some farmers in the south of England may be starting now as crops are bulking and will soon be producing heads, May 15th  is normally typical for the first cut where the demand for energy content, nutrient value, fermentation quality and storage stability is more likely to be met.
Given the levels of rainfall seen through-out the UK and dry spells, a key influence in this year's silage making will be the moisture content. To achieve high quality silage, green matter needs to be pre-wilted to prevent faulty fermentation.  
Now is also the time to ensure you create the best possible ensiling conditions using high quality silage treatment products. Monarch Chemicals are the UK distributors of Perstorp's range of high grade buffered propionic derived products, guaranteeing you superior results for 2020/21.
Choosing the right silage treatment products
ProMyr Silgae Plus and ProMyr Silage additives work to improve your bottom line result by significantly reducing dry matter losses and retaining natural feed value. This initial treatment has an enormous later impact leading to improved milk yield and quality whilst increasing live weight gain.
Our silage products work to: 
Preserve the natural energy and nutritional value of feed
Kill unwanted bacteria that can lead to unwanted microtoxins
Significantly reduce dry matter losses
Inhibit mould and yeast growth
Prevent heating processes
Alongside a carefully planned and executed ensiling technique, using ProMyr Silage plus and/or ProMyr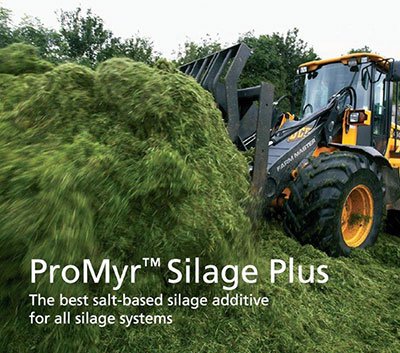 Silage additives ensures the right anaerobic environment is achieved, providing you with high quality roughage for the winter period and beyond.
At Monarch Chemicals we provide a responsive and rapid delivery service to dairy farms throughout the UK and offer our products in a variety of sizes allowing us to supply any size of farm from small hold to large scale.
To discuss your current requirements or for more information please contact Robin George, Agricultural Sales Manager on 07711 009069 or click here to send an email.
For more information on our silage additive products, including requesting an online quote please use the links below
ProMyr Silage Plus 
A salt-based silage additive which converts to gas. Developed for the optimum ensiling of grass, clover, wholecrop and maize in bales.
ProMyr Silage Additive 
An acid-based silage additive developed for the superior ensiling of grass, clover, whole crop maize and crimping. Ideal for use in silage pits.