Skip to main content
Alcohol-Free Anti-Bacterial Foaming Hand Sanitiser
Kills 99.99% of harmful bacteria and enveloped viruses
Foaming Hand Sanitiser by Cleantec Innovation is an alcohol-free hand sanitising product achieving a 99.99% kill rate of harmful bacteria and enveloped viruses on the hands.
The air-dry foaming formulation quickly coats the surfaces of the hands leaving no trace of sticky residues or strong perfumes whilst the alcohol-free technology will not sting on application or dry the skin making this product ideal for regular, daily use.
Cleantec Protect Alcohol-Free Foaming Hand Sanitiser as supplied passes: 
BS EN 1500: Hygienic Hand Rub
BS EN 14476: Virucidal (Medical)
BS EN 1276: Anti-Bacterial
BS EN 13727: Anti-Bacterial (Medical)
BS EN 13624: Yeasticidal (Medical)
Kills 99.99% harmful bacteria and enveloped viruses
This Hand Sanitiser is proven to kill both gram positive and gram negative bacteria and enveloped viruses. 
Product Packaging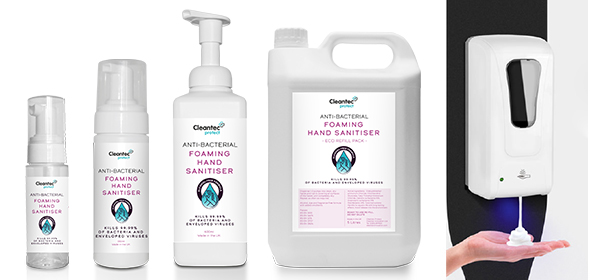 For convenience our Alcohol Free Foaming Hand Sanitiser is available in a range of different sizes suitable for on-the-go sanitisation to wall mounted applications.
15 x 50ml Pocket Size Bottles
24 x 150ml Travel Size Bottles
12 x 600ml Desk-Pump / Wall-Mount Bottles
2 x 5Ltr Ready to use eco refill packs
Wall brackets and 1000ml touch-free electronic dispensers also available
Private Label Hand Sanitiser
We are also able to offer hand sanitiser as a white label product. With an NDA in place we work alongside you to design a completely customised label with your company branding and details. For more information or to discuss your requirements please fill out the 'Get a Quote' form on this page.