Skip to main content
VIROGUARD Alcohol-Free Anti-Bacterial Foaming Hand Sanitiser
Kills 99.99% of harmful bacteria and viruses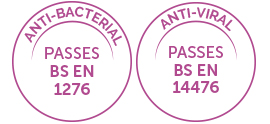 VIROGUARD™ Foaming Hand Sanitiser is an alcohol-free hand sanitising product achieving a 99.99% kill rate of harmful bacteria and viruses on the hands. 
This hand sanitiser passes the requirements of BS EN 1276 for the evaluation of bactericidal activity of chemical disinfectants and antiseptics and BS EN 14476 for virucidal activity against enveloped viruses offering total protection.
Kills 99.99% harmful bacteria and viruses
VIROGUARD™ Hand Sanitiser is proven to kill both gram positive and gram negative bacteria and enveloped viruses including: 
Pseudomonas aeruginosa
Staphylococcus aureus
Escherichia coli
Enterococcus hirae
Coronavirus (e.g. SARS, MERS)
Poxviridae
Herpesviridae
Filoviridae (e.g. Ebola, Marburg)
Flavivirus
Hepatitis B virus (HBV)
Hepatitis C Virus (HCV)
Hepatitis Delta Virus (HDV)
Influenza Virus
Paramyxoviridae
Rubella Virus
Measles Virus
Rabies Virus
Human Immunodeficiency Virus (HIV)
Human T Cell Leukemia Virus (HTLV)
Product Packaging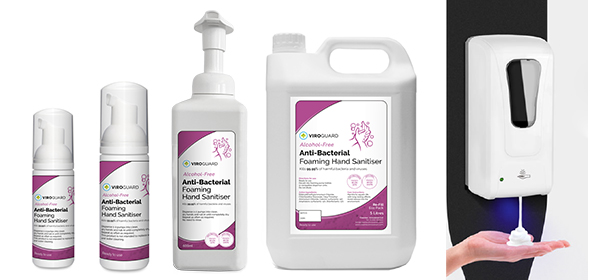 For convenience VIROGUARD™ Alcohol Free Foaming Hand Sanitiser is available in a range of different sizes suitable for on-the-go sanitisation to wall mounted applications.
15 x 50ml Pocket Size Bottles
24 x 150ml Travel Size Bottles
12 x 600ml Desk-Pump / Wall-Mount Bottles
2 x 5Ltr Ready to use eco refill packs
Wall brackets and 1000ml touch-free electronic dispensers also available

Private Label Hand Sanitiser
We are also able to offer VIROGUARD hand sanitiser as a white label product. With an NDA in place we work alongside you to design a completely customised label with your company branding and details. For more information on our bespoke packaging options please click here or to read our latest hand sanitiser private label case study with CAVE hotel and golf resort, click here.
For more product information or to request a price list please use the contact form at the top of the page and a member of our team will get back to you shortly.